Bree closed the top of the suitcase and zipped it up, patting it and turning to Gabe. "This is the last one."
She watched as Gabe grabbed the bag and headed to the car. The sun was bright as he walked out the back door. It was going to be a nice day. Here. He didn't know where they were going. Bree had planned a long weekend away for the two of them to celebrate the end of the long project he had been working on.
She hadn't even let him in the bedroom while she packed. All he knew was that his phone was going to be on do not disturb while they reconnected. He had been working long hours and weekends to get it done, but it was finally over and a success. They had a lot to celebrate.
Bree took one last look around to make sure that she hadn't forgotten anything. Gabe had come back in after packing the car. "Are you ready?" she asked.
Looking a bit dubious, he replied, "I guess…am I? I haven't really done anything to get ready."
She laughed. "All will become clear…" She grabbed the jackets off the table, her purse and phone and motioned him to the door.
"To Phoenix, please, Jeeves," she said as she settled into the passenger seat. His phone buzzed and she looked at him. "Do not disturb. Now." He pulled it out and turned on the setting, placing it in the cupholder.
As they drove across the city to the freeway, Bree plugged in her phone and turned on their favorite playlist. They sang and chatted during the drive to Phoenix. It was nice just to relax and spend time together. He rested his hand on her leg and she stroked it while he drove.
As they got close, she gave him the name of their favorite Mexican restaurant. "We'll stop there for lunch."
"So, are we staying in Phoenix?"
"I don't think you are cleared for that level of information," she laughed.
They parked and walked in. It was pretty empty since it was a Friday lunch and they were a little early. They sat down and ordered two margaritas, munching on the chips and salsa as they decided what they wanted to eat. Realistically, they looked at the menu and still decided on the same thing they usually got.
Bree looked at him. "You already look so much more relaxed than you have in months. This is going to be a good trip."
He nodded. "It's been a long time since we just had time together. It feels like all of the past few months have been work and chores. But, I am very curious where we are going…"
She sipped her margarita and raised her eyebrows at him. "It's…not right here."
After eating their usual favorites, Bree headed to the bathroom while he paid the bill. She slipped off her underwear and stuffed them in her purse. Pulling the skirt back down, she grinned.
"Head towards Flagstaff," she said as they got back in the car.
"Hmmm. Interesting," he murmured.
Just as they got to the top of the hill, Bree reached in her purse and tossed her underwear in Gabe's lap. He looked puzzled for about 1/100th of a second and then reached over, sliding his hand under her skirt.
Just as he started to stroke, she prissily crossed her legs. "Eyes on the road, mister." She watched his pants start to bulge while he drove, knowing he was thinking about what she had in mind.
"How much farther?"
"Are you in a hurry?
"Yes!" He turned to see her laughing at his predicament.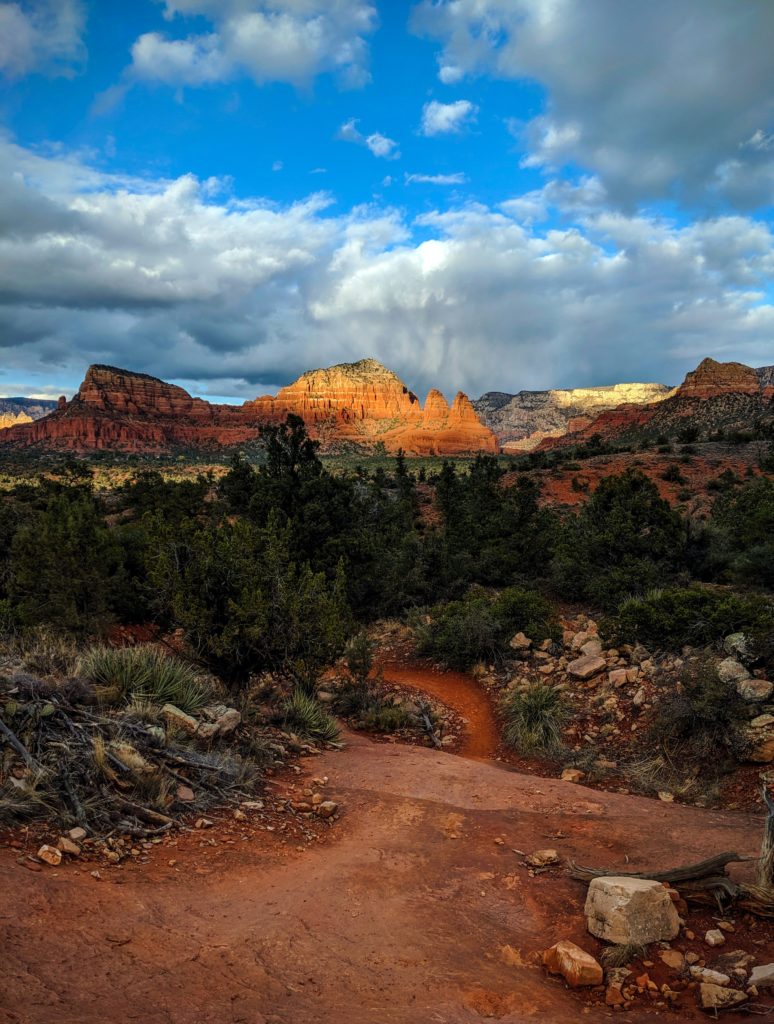 "Not too much longer. Turn at the next exit." He saw the sign for the exit to Sedona that she was indicating.
They drove through the town past all of the little shops. It wasn't crowded on this Friday afternoon. The main tourist season was over and it was getting chilly at night here. Most people tended to stay in Phoenix where it was warmer. The sun was shining on the red cliffs and the sky was blue with some puffy white clouds.
As they headed up towards Oak Creek Canyon, she told him to turn off. As they pulled up to the resort, Bree said, "Surprise! And just wait until you see the room…"
See Part 2, his perspective, here.