Even as a kid I have always taken a lot of photos. We have boxes and albums of my photos and Snake's photos. Digital just added to the sheer numbers because we don't have to take them to be developed. And other than storage space, they are free.
I've walked along on tours snapping pictures left and right while not missing a step. I scrapbook so I try to get everything from food and drink to sights to people to us to the random sign to…. You get the picture. 🙂
That said, I prefer to take pictures of anything other than me. Which for people who know me probably sounds funny because I actually do share a lot of them–naked and otherwise. Of course, even Snake rarely gets a face shot because I can't take a face selfie that I'm happy with ever. Partly probably short arms–he always grabs the camera if I am trying to get one of both of us because I inevitably cut one of us off otherwise. But, I can't smile on demand in a way that doesn't look like I'm being held hostage and this is proof of life.
And honestly? Even posed pictures by other people tend to have the same deer in headlights look. I do much better with candid shots. The best tend to be when I'm laughing because I look like me.
I do take a lot of selfies, though. Lots of them have been on the blog and on Twitter. They just never include my face. I'm pretty good at finding my good angles and they make me feel good about me. Even with the craziness of the world right now, I still take them and share them. It's my little bit of Charmer. It's fun and flirty and sexy.
We also take a lot of the pictures together. Snake is my photographer and I'm his model. It's silly and there are some of the strangest positions to get "just the right image" that is in his head, but it is our time. He makes me look fabulous and I think he tends to enjoy the view while he does.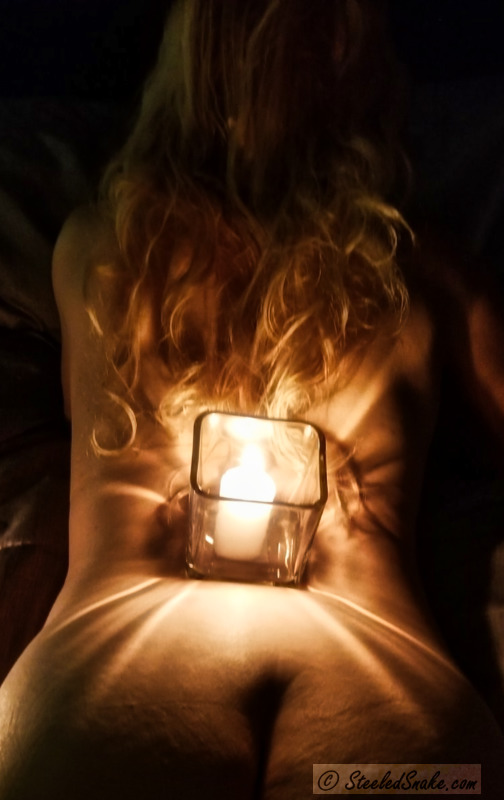 Has it helped my self esteem? Definitely. My body shape for years was not what was considered sexy because I have curves. Finding jeans that fit over my hips and didn't have a huge gap in the waist was virtually impossible because that wasn't what was "in." Which baffles me because it isn't like any of us can really change our basic shape, but the world is a wacky place.
The strange part is that I usually have felt sexy. Probably partly upbringing because my parents were all about being healthy and happy and told me constantly that I was beautiful. That gave me a great foundation to accept me and be happy with me. Obviously the doubts that everyone has but I still tend to respond to Snake with "I know," when he tells me that I look good. And he tells me often.
I guess then my take on photography? I love it. I love taking pictures of everything, I love sharing them and I love seeing them by other people. I feel like I know people more when I see what they find worthy of a photo. They are so personal and expressive. They are an essay of a thought or feeling in an image. And so much more.