As most of you know, Snake and I really enjoy dancing together. This is a relatively new thing since we took some group classes in late 2013 and discovered that we love it.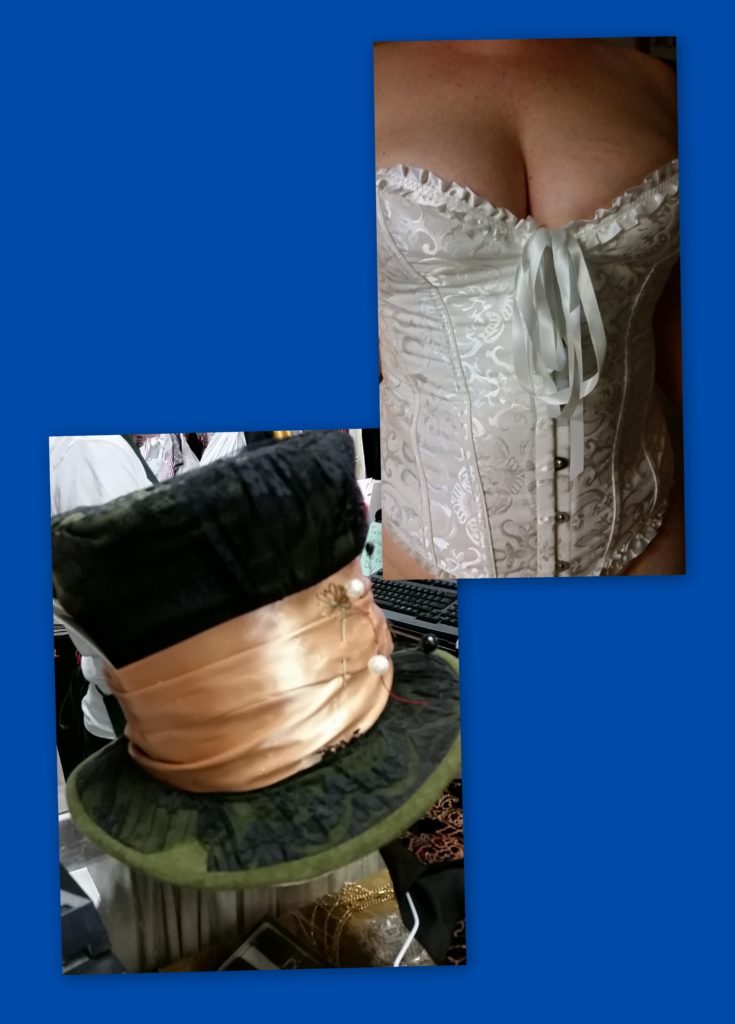 We had done one Christmas show in December 2014, but it was really just putting our competition routines to a Christmas song. It was quick and fun, and it didn't take a lot of time to learn.
We had been doing competitions in 2014 and 2015 and had won several trophies. We (OK, I) decided that we should try to do a solo routine for the next competition.
Now, you have to understand that most dance studios are not like Dancing with the Stars. The music that people perform to is usually pretty standard ballroom fare. There is a bit of Latin and Country thrown in, but mostly they are foxtrots and waltz.
Enter Charmer and Snake. What did we pick to dance our first solo to? White Rabbit by Jefferson Airplane. And not only did we pick a rock song, but we decided to pull out the stops with a steampunk feel.
We searched to find the perfect hat for the Mad Hatter for Snake and a corset and high/low skirt for me as Alice. Of course, it was purchased before we had finished the choreography and we realized that we had drops and lifts that the corset needed to stay in place for.
If it has been a while since you heard the song, it starts off slowly. It's only 2 1/2 minutes long, but it builds to a frenetic pace by the end. The choreography was planned perfectly for the music, we have an amazing dance instructor, and it was incredibly dramatic. All of the way to the end where we did a drop at the precise last beat of the song.
Our dress rehearsal was good. The corset stayed in place with enough tape to wrap around the city five times, the hat stayed on his head and all was good. We figured that we could get through this without creating any wardrobe malfunctions or coronaries.
As is always the case, we invited people to come see us perform, figuring that they wouldn't be there. Top of that list? Snake's father and his wife. Front row.
Do you have any idea how awkward it is to be worrying about everything popping out of the corset while you dance in front of a crowd that includes your FIL in the front row taking pictures?
Of course, it is still the dance that everyone talks about and after all of the mess that is 2020 is over and we can take lessons again, it's on the list for ones to do again. How to top that last one….