We've seen this around from time to time, a vibrator that has the "sucker" action. But this one is different. It has both a vibrating portion and a suction-oriented end. It's also waterproof, a big plus.
Yep, here's the obligatory note: Sohimi provided this toy to review, but that nice gesture will not impact this review at all, we only do "actual-use, actual-feedback" type reviews.
Form – Shape, etc.
The vibrator has a "stem" and then the rose end. It's pretty cool looking, and I have to admit that I can understand it straight off, whereas some other "sucking" toys I've had to guess at a bit.
It's pretty bendy in the "stem" portion and the flower portion is somewhat pliable as well. No hard surfaces, and as I mentioned above, waterproof, though I think they mention more oriented toward splash-proof than taking it diving.
There is another version, too, that is just the flower portion. I can't imagine a bit of lube added to the situation, keeping any kind of control on the toy, though. I think it would be crazy-hard to manage. The one we were sent includes the vibrating stem. (Not their name for it, "G Spot Vibrator" but that's how I refer to it given the flower portion.)
That stem portion is quite flexible but has good strength to it. The vibrations range from "buzzy" to "rumbly" with a few patterns thrown in as well as different intensity levels. It's no match for a wand-type toy's rumbly sensations, but it's quite good.
The flower portion also has 5 different modes, ranging in strength and function.
The two portions are controlled independently, and it charges with a magnetic USB connector. It's a pretty fast charge, and it's a fairly quiet toy, though in use, if you have a lot of lube as we've seen suggested, on the rose portion, the toy can get noisier.
Function – Feedback on How Much Fun It Is
We had a lot of fun playing with this. I've tried it in conjunction with a wand-toy, with and without other toys, etc. It's an interesting supplement (heh, "interesting, like we're talking about graph paper here "it was an interesting grid design…" – sorry) to other toys. So using the stem portion with a wand was a hit. It was flexible to get to the right spots and structured enough to keep that location and led to several great O's.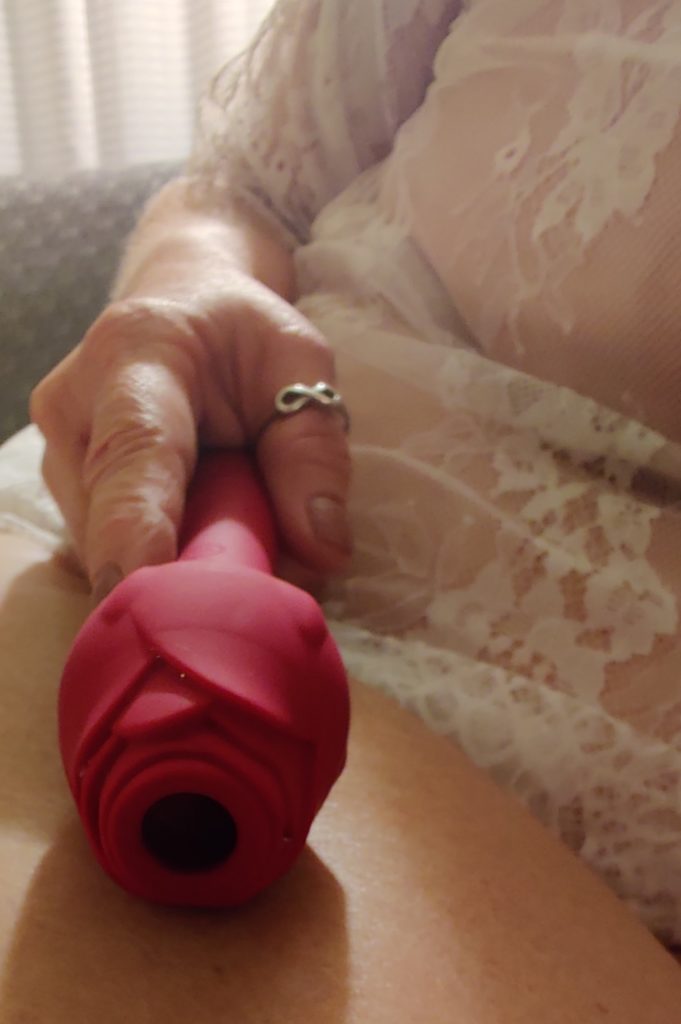 I thought the rose end of it provided a decent handle, but since the whole device is the waterproof materials, if you're one that needs specific attention to spots, you may want to keep a washcloth handy to keep the slippery stuff off the rose end so you can better control it. If you like a LOT of side-to-side pressure (or up and down), it can be difficult with the bendy nature of it, but very doable. The vibrations were definitely effective and in a rarity, she really liked a couple of the patterns. (She's not usually one to enjoy patterns).
In short, it's on our list of toys to keep handy because of that stem portion. It was slim, flexible, nice, and rumbly if that's what was feeling good in the moment, and just great overall.
The rose portion. Well, see, this was what we were looking forward to. We've tried multiples of these, we keep buying them when we see them reviewed, but in practical use, she has a pretty much "get that away from me" feeling about how it feels. Then we saw a review that talked about placement making a difference. While they're billed as "clit-suckers" (not my term), that actually just isn't going to fly in the Snake Den. At all. I'm likely to be killed by it being shoved in locations I don't want it if I try again.
But… I thought… what about around or near…? Would that make a difference? It turns out that it is more tolerable there. About 75% of the time, it's still just nerve-stomping not something that works for Charmer. But we've had some very, very successful times where it's not the first go-to toy in the moment, but rather when things are rolling along nicely… it can really work well. Boy do you have to be super-aware of feedback (fists swung in your direction are typically a bad thing, that eye-rolling thing is usually a good thing – look for that).
So I'd give the stem a rock-solid endorsement, and the rose, well, it depends on the moment, how you approach it, etc. I'd say that the biggest takeaway for me was that placement is something worth messing with, and mixing it in with other toys can really be great fun too. It's just not a place it and fire it up… at least for us.
Also, lube is indeed your friend. I don't think this is mentioned enough for these sucking types of toys. The lube changes the reactions, feelings, and the connection it's making 100%. you might try with and without, but I think the sensations are more "connected" with a good portion of lube applied to that rose portion. Of course, you'll want it for the stem piece as well, but the rose is something that was surprising how much of an impact it had in changing the sensations.
Verdict
The "Rose Queen Clitoral Sucking & G Spot Vibrator" (that's the full technical name) was a lot of fun to play with, and yes, it's made it into the coveted "keeper" box overall. It's more of a specialty toy – like an in-the-moment type of thing, or mixing things up with other toys, that type of thing. For us, though, it's different and a lot of fun, at least as far as that rose end goes, time to time.
Overall, our rating would be a buy, and in particular, with the different uses, the price point of the toy is not wallet-breaking. (As of this writing it's on sale).
Non-affiliate link to the toy: Rose Queen Clitoral Sucking & G Spot Vibrator
Save 10% with discount code Snake10