I've been going through a longer-term review of a few chastity cages in hopes of providing some additional information about cages, differences between them, food for thought, etc. HolyTrainer is the first of these – and I've spent a good deal of time wearing, comparing, and looking at the device.
Overall: Long-term use, Confort, Time to Acclimate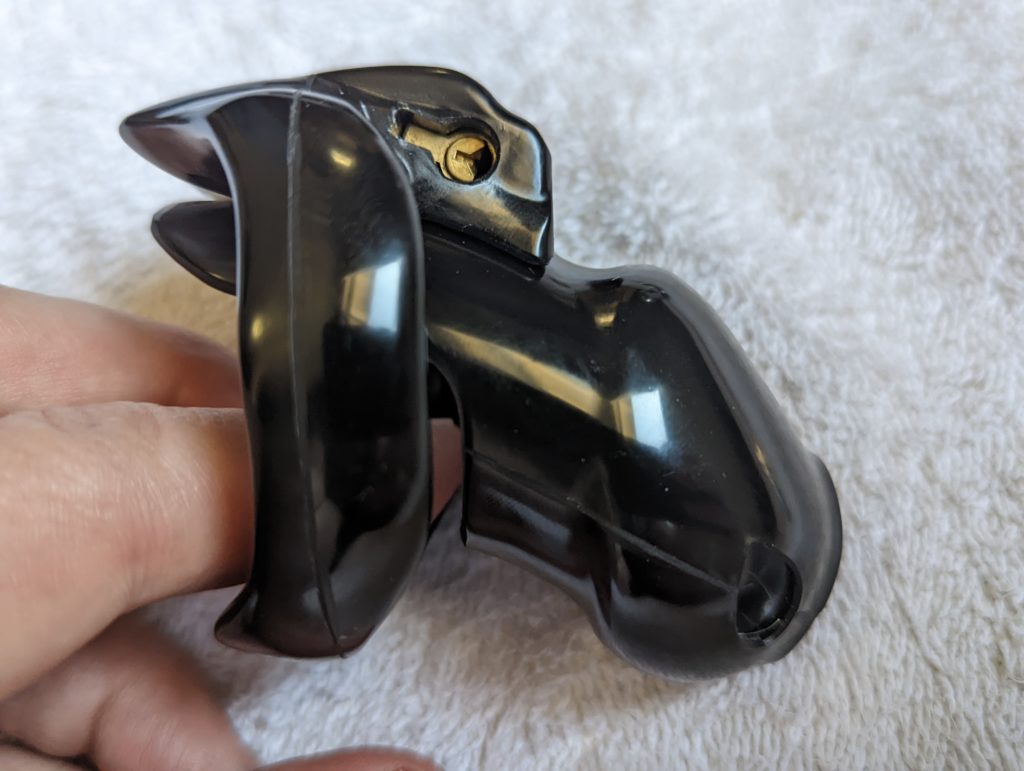 The cage is a little challenging to put on the first time, only because it slides together in a way that you can easily catch skin between the base ring and the tube portion. Just be aware of this, and know that it's a challenge, so you know to watch for it. After you've put it on 3-4 times, it's not a challenge at all, it's just that first few times.
Comfort-wise, the base ring is nice and wide and has an anatomical bend to it. It's easy to put on, but it does have these sharp points in the portion that fits together with the tube. You REALLY have to watch those – they bite. You'll get the hang of it, but it's knowing how to protect yourself and something you'll have to work around when you put it on. It's important, but not a pass-fail type of situation.
Once it's on, I honestly thought it would be challenging because of the more strict downward angle of the tube. But, after about a day or so into my testing wearing it, it was actually MORE comfortable than others I've worn. The angle was not an issue and indeed helped it drain as the slot, in the end, was apparently engineered to take advantage of the angle and not "pool."
Comfort-wise under clothing and such – excellent. it's invisible to see under clothing (save for possibly tight underwear or very form-fitting spandex-type clothing.
Acclimation was about 2-3 days, 4-5 before it was "just there" and not something top of mind. (Note: please see other post about the width of the base ring impacting sizing)
Score: 8 out of 10
Why: The spikes are challenging… can bite.
Escapability/Security of the Device
Better than many ball-trap style devices, it's still a ball-trap without a physical "lock" on your body (like a Prince Albert/PA piercing). So, it's still possible to escape if you're so inclined. No, the spikes mentioned above aren't "anti-pull-out" features, they're covered by the tube when the cage is on. As has been said many times, security is mental AND physical absent a PA or other physical attachment, the same is true here, but you may find it more secure due to the more strict downward orientation.
Score: 7 out of 10
Why: Missing PA or other body-piercing support
Privacy/Look and Feel
The device is really nearly impossible to see under clothing. And it's extremely comfortable once you've become accustomed to it. You don't feel like you need to adjust or shift things around to participate in life and that's a great thing. High marks for comfort, privacy and look and feel. Note that there are different colors available, to suit your own personal goals.
Score: 10 out of 10
Build Quality
The cage is very lightweight, has only a single metal item, the lock cylinder (the "MagicLocker"). This means it's very likely not detectable by metal detectors. If it were me, I'd do some testing first. Drop the cylinder in your pocket and see if you have issues. I can't guarantee or suggest it won't show up and, personally, I'm not that worried about it that I can't remove it for scanning and then put it back on after going through checkpoints if desired. I can confirm I personally had no issues taking it through security through several TSA checkpoints in my carry-on. Your mileage may vary.
Also important, the scanners (not the metal detectors) can see paper and other items in your pockets. I'm confident it could possibly pick up on a chastity cage, or, "something down there to double-check" so I'm just not willing to chance it for TSA. Again, you can drop it in a carry-on, head to the restroom after the checkpoint, and put it back on. Probably the safest bet, even with limited metal in the cage.
Overall Build quality is very good. I do have some concerns about the assembly seams – they seem to become slightly more pronounced as it's worn, but I haven't had any issues to date, after full-time wearing for more than a month (and counting). The seams do not come through to the inside of the tube, so no irritation there.
Solid build quality and very cool that parts are standardized and available, and you can replace specific bits if something happens.
Score: 9 out of 10
Maintenance and Cleaning
This is a closed tube device. So you'll get some possible funkiness in the tube over time, but the size of the opening is excellent and keeps things very clean, and easy to clean, even while in place. Doing a more thorough cleaning is simple and the device doesn't hold on to anything (no odd-ball textures to worry about).
Score: 9 out of 10
Customization Options, Piercings
Customization is somewhat limited, allowing for only sizing (tube length and base ring circumference) and colors (there are a LOT of available colors). There are no options for piercings or other customization options.
Score: 6 out of 10
Pricing
The pricing for the HolyTrainer is simply outstanding. There is a slight difference in price moving from standard color selections to the crazy-cool colors options available in the custom colors, but even there, for a solid, comfortable, effective device, the pricing is very good. As of this writing, the pricing ranges from $165 to $185.
Score: 10 out of 10
Vendor Communication/Delivery
It seems that many of the vendors in this space are slower to respond. Partly because of distance (many are international to the US) and I'm sure there are other factors at play. I've had cases where I've been straight-up ghosted by a company while just trying to ask a few questions pre-purchase. In today's communication environment, I'd look for 24-48 hour responses on normal, typical requests. My response-meter is:
<49 hours, 10 points
2-4 days, 7 points
4-7 days, 5 points
7-14 days, 2 points
14+ days, 0 points
Score: 2 points (usually 7-9 days)
Conclusion
The HolyTrainer v4 is a great device. The price point is aggressive, the build is solid, it looks and feels great.
I would call this a DENIAL device – not a TEASE device. Because if you are ever teased, with the intention of getting out and having additional fun, you'll have a VERY difficult time with those spikes (honest, I know). If your dynamic does not provide for that (release) type of thing, this is not at all an issue. And to re-iterate, the pictures show the connection in question – they do NOT point down as it may look, they curve forward and down slightly. Nonetheless, if you're experiencing an erection, you'll have a rough time with those. This isn't necessarily a bad thing. It's a consideration and something that will be determined your own flavor of chastity in your life.
I do also wish for Prince Albert piercing support, but of course, that doesn't apply to everyone, so you'll have to determine if that's key to your dynamic.
Total Score: 61 out of 80. (76.25%)
I recommend the HolyTrainer – it's a great device for everyday wear, looks great, and works well. Your lifestyle choices will drive whether some of the items mentioned are more or less important to you and your goals.
For more information, please click here to see their site. (not an affiliate link)
While HolyTrainer provided the device used in this review, it in no way influenced this review, which is based 100% on my own personal actual experience using the chastity cage and their ordering process.