Since we love to travel, there are so many wonderful memories to choose from. In fact, I have written about a lot of trips in the blog, along with our sexy times on them.
Some of the favorites are the UK, Tallinn, St. Petersburg, Sydney and New Zealand. And road trips and Disney, of course! I'm sure I could name just about every place that we've gone as one that we've loved. Oh…I forgot Belize!
But, since I've written about most of those, I thought I'd pick one of the most remote which I don't think I've written about. We've done two trips to Alaska. The first was a short one for a little over a week. We stayed in Anchorage for a few days, visited Whittier and Seward, saw Denali, drove to Fairbanks for a few days, drove back down through the middle of nowhere back to Anchorage which was a two day drive.
We saw a musk ox farm, panned for gold and visited the North Pole and ice museum like all good tourists must. We saw caribou and glaciers and threw snow balls at the ski resort in June. And struggled to sleep in rooms where it was light almost 24 hours a day.
The best thing we purchased to get ready for that trip was a book called The Milepost. It is published yearly and has every road listed mile by mile. And while that seems odd to most of us who live by freeways and GPS, it lists random things that you will see at each one and most importantly frost heaves.
Frost heaves are where the road has buckled because of the freezing and thawing of the ground. It isn't a huge issue most places, but I can tell you that in Alaska, they are some serious jolts. Enough to destroy your car if you hit them hard enough! The trip was lazy and just dipping our toe in so we could see what we wanted to see more of.
We visited again about 10 years later. This time we were there for three weeks. Instead of renting a car, we traveled by train down to Seward to go on a whale watching cruise only to have to turn back because of high seas and people refusing to take the Dramamine that they told everyone to take. We were having a great time, but there were so many people puking into garbage cans.
We were in the earthquake exhibit when an actual earthquake hit–how many people can say that???
We took the train up to Denali and had the best tour guides. They hire high schoolers from Fairbanks and Anchorage to ride the train and tell about the route. And halfway they slow down enough to let them get off one and onto the other so they are home for the night. We had a boy who was friendly and funny and told the best stories.
We splurged on a helicopter tour of Denali after we had done the bus ride in and out. We saw mountain goats and it was a really beautiful way to see the park–especially areas that are totally remote unless you backpack for days. Oh! And we went white water rafting.
After returning to Anchorage, we flew to Juneau. That was the most exciting flight we've ever had. The entire front of the passenger jet is closed off for cargo so you enter from the rear. Landing in Juneau is like a bird diving for food. You come over the mountains and straight down to the airport. It's the only flight where passengers apparently clap at every landing.
We spent two days there. It's beautiful but almost completely shuts down when there are no cruise ships in port. We toured the capitol just by walking up to the door–they did virtual long before anyone else ever did. The room is tiny because most representatives called in even before Zoom and such. And it was the first place that we went zip-lining.
Then we went on a small boat cruise. There were 110 on board including the crew. The cabin doors didn't lock and were sliding metal doors. There are no real "cruise" perks, but the wonderful thing is that you can go places where the regular cruise ships can't. We woke up the first morning in a tiny cove and got to go out in inflatable boats.
We went through Glacier and were close enough to a calving glacier that the entire ship was moving like high seas. The cruise was one of the most amazing things ever. We saw so much more than we would have ever seen on a bigger ship.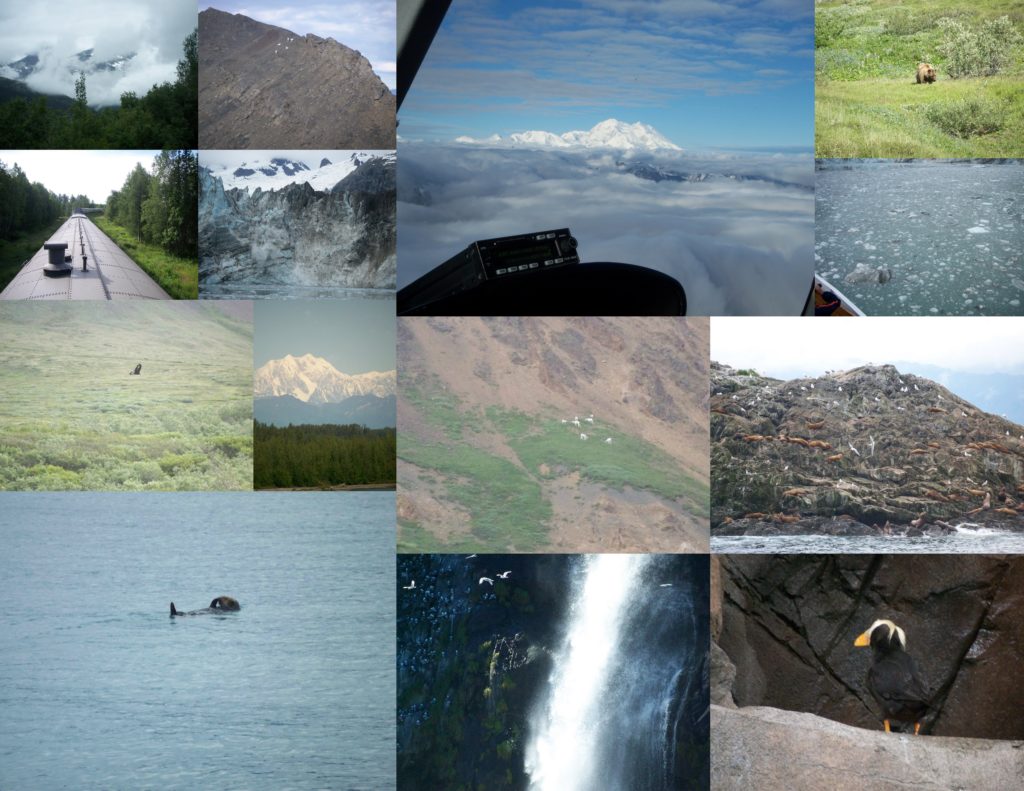 So that is my Alaska travel memory–I'm sure if Snake wrote about it, he would have completely different cool things that he remembers. Would definitely go back again–it's so different and beautiful and rugged.