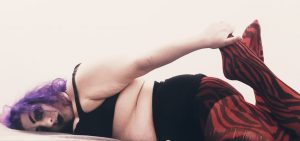 Photo courtesy of Deviant Succubus
The only place where the smartest and hottest sex bloggers are featured under one roof every month. Whether you're looking for sex journalism, erotic writing, relationship advice or kinky discussions it'll be here at Elust. Want to be included in Elust #124? Start with the rules, come back November 1st to submit something and subscribe to the RSS feed for updates!
~ This Month's Top Three Posts ~
Breast cancer awareness – check your boobs
~ Featured Post (Molly's Picks) ~
Metamorphosis: Fat, Fit and In Between
Contraception- life without birth control
Erotic Non-Fiction
Take It To The Limit
Marshmallows
Spank me Red
Custom Made Cuckold Porn
Thoughts & Advice on Kink & Fetish
Control
The Image (1975): The Celluloid Dungeon
Return to CMnf
Latex for the Curious – Catsuits
Negotiating a stunt cock
Ruby Ring Piece
13 reasons why I love play parties
You Got a Piercing Where?
Erotic Fiction
Alice's Minotaur: A Ravishment Tale
Shadow of You
Punished
The Jealous Wife
What we both want
Rugby world cup I only care about the fucking
The Red Thread
Thoughts & Advice on Sex & Relationships
Loosing My Virginity
5 things that encourage Dominance
My Happy Place is an 80s (Sex) Mansion
Sex News, Opinion, Interviews, Politics & Humor
Sex Work – How My Views Have Changed
Golden Brown
Body Talk and Sexual Health
Paradise Lost – Vale Sir Lust
My Nexplanon Implant Story: The Procedure